Mid Facelift Beverly Hills
MID FACELIFT SURGERY BENEFITS
With age, the delicate skin on the face begins to lose its supple tone, firmness, and youthful elasticity. The cheeks and eyelids often begin to sag, creating a tired or haggard look. The mid facelift is a surgical procedure designed to improve the contours of the cheekbone area and the area underneath the eyelids, effectively restoring a smooth, full, well-rested look to the lower eyelids and cheeks, which can take years off a patient's facial appearance. LidLift offers the best mid facelift Beverly Hills and Los Angeles has to offer.
One of the primary reasons lower eyelid surgery is unsuccessful is a failure to appreciate the role of midface descent in determining the lower eyelid changes. The midface lift addresses the descent of the malar fat pad that contributes to the under eye hollow, the midcheek groove, the nasolabial fold, and the jowl at the bottom of the cheek. Improving an unsatisfactory lower eyelid surgery almost always involves also addressing the midface issues and their contribution to lower eyelid aesthetic problems.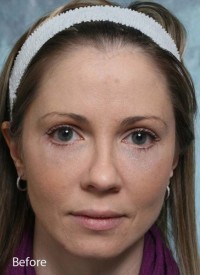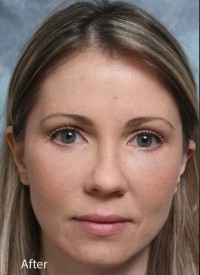 MID FACELIFT SURGERY EXPERTISE
Over the past 15 years, surgeons have been grappling with what is essentially a new frontier in the field: midface surgery. In contrast to many of the classic techniques of periocular plastic surgery, midface surgery is still evolving and changing. Midface surgery is aimed at improving the midface area, which is the triangular region of the face on either side of the nose. The primary concern midface surgery addresses is the descent of the malar fat pad, which contributes to the under eye hollows and increases the depth and prominence of the nasolabial folds.
Dr. Steinsapir is one of the key pioneers of midface surgery. Dr. Steinsapir's midface lift with hand carved ePTFE orbital rim implants is widely recognized as a key reconstructive procedure ideally suited to address complications resulting from unsatisfactory lower eyelid surgery, and other complex reconstructive situations.
Dr. Steinsapir's expertise has allowed him to create innovative, minimally invasive midface procedures that can be customized to address your particular needs. While these procedures do involve surgery, most patients find they can return to work in 1-2 weeks with minimal residual swelling. In addition, Dr. Steinsapir offers reconstructive surgical options to repair previous unsuccessful midface surgeries. In many cases he is able to repair issues that other surgeons described as unfixable.
It is important to understand that his extensive training and experience permits Dr. Steinsapir to offer solutions that other surgeons lack the experience and vision to perform. Dr. Steinsapir is often called upon to fix the midface work of other surgeons, and he teaches other surgeons and lectures extensively about the various types of midface procedures.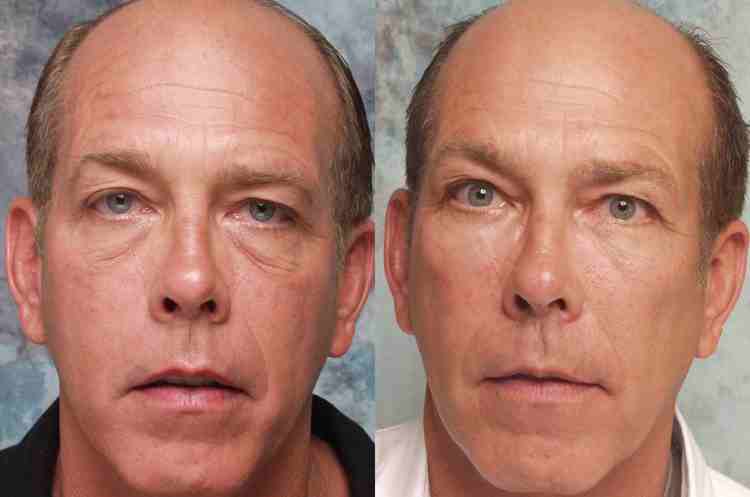 MID FACELIFT SURGERY OPTIONS
After performing an extensive medical evaluation, Dr. Steinsapir may elect to incorporate one or more of the following midface surgery techniques into your facial rejuvenation treatment plan:
Arcus Marginalis Release:
The lower eyelid fat is surgically rotated over the orbital rim to fill the under eye hollow. This surgery is performed from a small incision behind the lower eyelid and is comfortably performed under local anesthesia. The average recovery period after this procedure is 10-12 days before most people return to social engagements.
Tailored Lower Eyelid Surgery:
By carefully tailoring standard lower eyelid surgery it is possible for some individuals to improve the overall appearance of the lower eyelid as it transitions into the top of the cheek. This can be combined with a reinforcement of the orbitomalar ligament to improve bags that form at the top of the cheek. The impact on the appearance is of these surgeries is remarkable.
Vertical Midface Lift (with or without an orbital rim implant):
Significant midface aesthetic issues can be addressed with a vertical midface lift over a hand carved ePTFE implant. This procedure is very effective for midface deficits following injury, trauma, or prior lower eyelid and midface surgery. Patients who have been left with hollow lower eyelid syndrome after misplaced cheek implants can benefit from this procedure by having their cheek implants removed in conjunction with their vertical midface lift. Swelling from these procedures persists for many weeks after surgery, but most patients resume working within 10-14 days.
Autologous Fat Transfer:
For this procedure, fat is transferred from a harvest site on the patient's own body (i.e. abdomen, buttocks) to the midface area to restore depleted volume, thereby creating a more youthfully full, supple facial appearance.
Chemical Peel:
A medium depth chemical peel that targets the lower eyelid, crow's feet area, and cheeks can be a very effective midface rejuvenation option. Typically, phenol 89% is used for this purpose. Dr. Steinsapir is a master chemical peeler, and performs these treatments comfortably under local anesthesia. Recovery for this peel is typically 8-10 days before the skin is intact and able to hold makeup. Redness may persist for 6-8 weeks. The lower eyelid peel can be combined with a full-face peel for a truly powerful treatment with amazing results and a manageable down time. The chemical peel serves to firm the lower eyelid skin while tightening the midface region and reducing lower eyelid fullness.
MINIMALLY INVASIVE MIDFACE OPTIONS
For patients seeking to rejuvenate the midface region without the cost or extended recovery period associated with surgery, facial volumizing with a hyaluronic acid-based dermal filler (i.e. Restylane® and Restylane Lyft®)is a more affordable, yet still highly effective, option. Dermal filler injections can treat midface deficits and accomplish results that can't be obtained with surgery, which is why they are a fantastic alternative to having midface surgery.
Dermal filler treatments can be performed in conjunction with Dr. Steinsapir's patented Microdroplet™ BOTOX® forehead lift and under eye Deepfill™ Restylane® to maximize and amplify the results. Because of its powerfully transformative effects, this combination of treatments is often referred to as a "liquid face lift" or "surgery in a syringe." When performed properly, the filler treatments last approximately one year; however, it is critical to inject a sufficient amount of product in order to obtain a satisfactory re-volumization. The exact amount of filler required depends on the facial structure and aesthetic goals of the patient. During your initial consultation, Dr. Steinsapir will perform a careful assessment in order to make his treatment recommendations, and will create a custom-tailored treatment plan to fulfill your cosmetic facial rejuvenation goals.
MID FACELIFT BEVERLY HILLS & LOS ANGELES
Dr. Steinsapir is a UCLA- and University of Chicago-trained surgeon who has performed separate fellowships in both Cosmetic Surgery and Oculofacial Microsurgery. Many individuals travel nationally and internationally to undergo midface surgery and other facial rejuvenation procedures with Dr. Steinsapir. To learn how midface surgery can help you achieve your desired facial improvements, please don't hesitate to contact our office.
You may also continue to explore Dr. Steinsapir's website (lidlift.com), where you will find supplementary information pertaining to midface surgery, before-and-after photos, midface surgery case studies, and answers to frequently asked questions about this type of procedure. Your midface surgery can serve as a key stepping stone along the path to become the best possible version of yourself—you can take the first step by calling to schedule your personal consultation with Dr. Steinsapir today.