Bell's Palsy and Nerve Injury Beverly Hills
BELL'S PALSY AND FACIAL NERVE INJURY
Bell's palsy is a form of temporary facial paralysis that results from injury or damage to one of the facial nerves and can cause significant facial distortion. Symptoms of Bell's palsy typically present very suddenly and progress over several days, peaking within 48 hours. Although symptoms vary in type and severity (ranging from mild weakness to total paralysis), the most common symptoms include: weakness, facial paralysis, twitching, drooping eyelid, sagging at the corner of the mouth, dry eye, drooling, taste impairment, dry mouth, and excessive tearing in the eye.
A viral infection (i.e. viral meningitis, herpes simplex 1) in the canal that transmits the facial nerve is thought to be the cause of Bell's palsy, potentially triggering the disorder when the facial nerve swells and becomes inflamed in response to the infection. Although recovery of the facial nerve occurs partially (or completely) in over 80% of cases, Bell's palsy can have a detrimental impact on normal eyelid functioning, resulting in severe corneal exposure and drying that necessitates treatment, and, in some cases, surgical correction.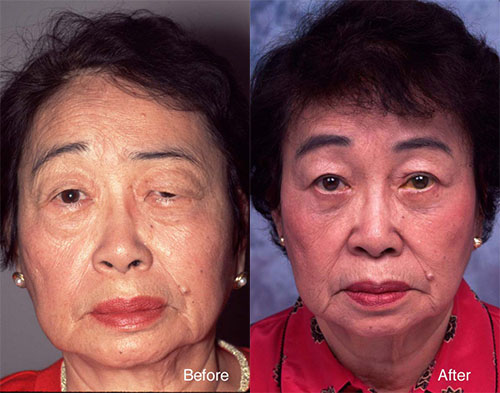 To ensure effective treatment of any facial nerve injury, it is crucially important to select a properly qualified facial surgeon with extensive experience performing reconstructive procedures on the delicate facial structures. You will find such a physician in Dr. Kenneth Steinsapir, world-renowned oculofacial surgeon whose private practice is located in Beverly Hills, CA. Dr. Steinsapir was elected as a Fellow to the prestigious American Society for Ophthalmic Plastic and Reconstructive Surgery, one of about 500 members worldwide. He is a board certified Ophthalmologist, as well as an Associate Clinical Professor of Ophthalmology at the prestigious Jules Stein Eye Institute at the David Geffen School of Medicine at UCLA. Patients travel from all over to consult with Dr. Steinsapir on Bell's palsy and other facial nerve injuries, in order to benefit from his technical efficiency, surgical excellence, and clinical precision.
TREATMENT OPTIONS FOR FACIAL NERVE INJURY
Treatment of facial nerve injury may include steroids to reduce inflammation and swelling, medications to fight viral herpes infections (acyclovir), and/or analgesics such as aspirin or ibuprofen to relieve pain. Patients will be advised to keep the eyes moist with frequent artificial tears and bland ophthalmic ointment, and to protect the eyes from debris and injury, especially at night. Some individuals may benefit from physical therapy to stimulate the facial nerve and help preserve muscle tone.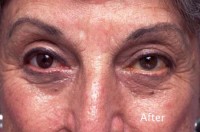 The symptoms of Bell's palsy may persist for only a few months, or may last a lifetime. Long-term treatment solutions to address chronic dry-eye or corneal injury resulting from Bell's palsy or other facial nerve damage include:
Temporary tarsorrhaphy: during this outpatient procedure, the eyelids are partially sewn together to narrow the opening
Placement of a gold weight in the upper eyelid to facilitate eyelid closure
Midface lift surgery with placement of a hard palate graft
Permanent lateral tarsorrhaphy
Although some physicians advocate the placement of a spring closure of the upper eyelid, these appliances are not stable in the eyelid, are prone to infection, and often require a commitment to multiple surgeries to maintain function. If the facial nerve injury has transpired during surgery to remove an acoustic neuroma (a benign brain stem tumor) and the resulting eyelid weakness does not resolve on its own, definitive steps will be needed to protect the cornea. A personal consultation with Dr. Steinsapir will determine the best options for your specific situation.
Bell's Palsy Treatment Beverly Hills & Los Angeles
Dr. Steinsapir is a UCLA- and University of Chicago-trained surgeon who has performed separate fellowships in both Cosmetic Surgery and Oculofacial Microsurgery. He is a board certified ophthalmologist and extensively fellowship trained. Many individuals travel nationally and internationally to undergo reconstructive facial nerve procedures with Dr. Steinsapir. To learn more about Bell's palsy and facial nerve injuries, please contact our office.
You may also continue to explore Dr. Steinsapir's website (www.Lidlift.com), where you will find supplementary information pertaining to reconstructive facial surgery, before-and-after case studies, and answers to frequently asked questions about this type of procedure. Your reconstructive surgery can serve as a key stepping stone to enhance your facial appearance—you can take the first step by calling to schedule your personal consultation with Dr. Steinsapir today.