Reconstructive Surgery Procedures Beverly Hills
RECONSTRUCTIVE SURGERY OPTIONS
Although survival rates for previously terminal illnesses and injuries have continued to rise over the last decade, patients are often left with undesirable scarring and other unwelcome aesthetic reminders of their injury or illness. For this reason, many individuals elect to undergo reconstructive procedures to repair their aesthetic appearance and improve their self-confidence after recovering from an injury or illness. Many patients have said that reconstructive cosmetic surgery allows them to achieve a sense of closure after the distressing experience of managing a physical ailment or injury, helping them to restore the appearance of a healthier, vibrant self.
When performing reconstructive surgery on the delicate facial structures, the surgeon must possess an incredibly high level of skill and a powerfully detailed artistic vision. You will find such a surgeon in Dr. Kenneth Steinsapir, a multi-fellowship-trained oculofacial plastic surgeon whose private practice is located in beautiful Beverly Hills, CA, where he specializes in customized, cutting-edge reconstructive surgery procedures for the eyes and face.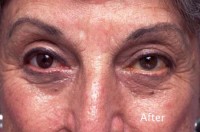 Dr. Steinsapir has extensive experience with eyelid, midface, and orbital reconstructive procedures, including the repair of previous eyelid, midface, and orbital surgery, removing unsatisfactory facial implants, correction of eye changes associated with thyroid eye disease, orbital and tear duct surgery, and repair of the eyelid after skin cancer removal or trauma. Dr. Steinsapir is on active staff at the UCLA Hospital and Medical Center at the David Geffen School of Medicine, where he also serves as an Associate Clinical Professor of Ophthalmology in the Division of Orbital and Ophthalmic Plastic Surgery.
Dr. Steinsapir personally plans and performs every single surgery, and maintains a high level of patient accessibility in order to answer your questions about your reconstructive surgery options, which include, but are not limited to:
Dr. Steinsapir is vastly experienced addressing a broad array of oculofacial reconstructive concerns for diverse eye and facial structures, and performs many of his surgeries on an outpatient basis at the UCLA Medical Center, which has been consistently rated the best hospital in the West, and ranked third among all medical centers in the United States. Larger, more complex reconstructive procedures may also be performed on an inpatient basis at the Jules Stein Eye Institute.
Dr. Steinsapir has an extensive portfolio of before-and-after reconstructive surgery photos demonstrating his versatile surgical skillset and ability to produce beautifully natural results. During your initial consultation, after carefully evaluating your facial structure and cosmetic goals, Dr. Steinsapir will create an optimal treatment plan structured to preserve as much natural tissue as possible, while incorporating less-aggressive, yet highly effective techniques to facilitate faster recovery times, natural-looking improvements, and precisely targeted results.
CONTACT DR. STEINSAPIR
Dr. Steinsapir is a UCLA- and University of Chicago-trained surgeon who has performed separate fellowships in both Cosmetic Surgery and Oculofacial Microsurgery and is board certified in Ophthalmology. Many individuals travel nationally and internationally to undergo reconstructive eye and/or facial surgery with Dr. Steinsapir. To learn how reconstructive surgery can help you achieve your desired facial improvements, please don't hesitate to contact our office.
You may also continue to explore Dr. Steinsapir's website (www.Lidlift.com), where you will find supplementary information pertaining to various types of reconstructive facial surgery, before-and-after reconstructive surgery case studies, and answers to frequently asked questions about these procedures. Your reconstructive facial surgery can serve as a key stepping stone along the path to become the best possible version of yourself, and you can take the first step by calling to schedule your personal consultation with Dr. Steinsapir today.