Thyroid Eye Disease Beverly Hills
Thyroid eye disease, also known as Graves' eye disease, is an autoimmune condition that upsets the body's natural homeostatic balance and produces a hyper-metabolic state, which can be associated with a rapid pulse, palpitations, elevated blood pressure, profuse sweating, fatigue, irritability, weight loss, hair loss, and heat intolerance. For reasons that are only now becoming clear through research, the same antibodies that attack the thyroid gland also attack the orbital tissues and cause eye disease. The resulting inflammation can lead to swelling and scarring, potentially triggering the following eye-related symptoms:
Eyelid retraction
Constant stare
Bulging (proptotic) eyes
Edema (swelling) of the eyelids and adjacent tissues
Double vision
Irritation of the eyes or chronic dry eyes
Eye redness and watering
Feeling of pressure in the eye sockets
Loss of vision
Light sensitivity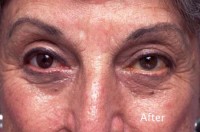 Sudden aesthetic changes to one's facial appearance can be very unsettling and anxiety-provoking, which is why patients travel from all over the world to consult with renowned oculofacial specialist, Dr. Kenneth Steinsapir regarding unwelcome aesthetic developments associated with thyroid eye disease.
Dr. Steinsapir is a multi-fellowship-trained oculofacial plastic surgeon whose private practice is located in beautiful Beverly Hills, California. Dr. Steinsapir is on active staff at the UCLA Hospital and Medical Center at the David Geffen School of Medicine, where he also serves as an Associate Clinical Professor of Ophthalmology in the Division of Orbital and Ophthalmic Plastic Surgery, and he has helped many patients effectively manage the symptoms of thyroid eye disease with carefully customized treatment plans.
THYROID EYE DISEASE TREATMENT
Thyroid eye disease treatments are generally divided into two categories:
Active Phase Treatment: the active phase of thyroid eye disease typically lasts 1-2 years, during which time the focus of treatment is on preserving the patient's sight, maintaining the integrity of the cornea, and correcting issues with double vision. Dry eyes are one of the most problematic and uncomfortable symptoms of thyroid eye disease. Excessive eye dryness occurs with thyroid eye disease because the eyelids are retracted and cannot blink properly, and imflammatory damage to the lacrimal (tear-producing) glands reduces tear production. Proptosis or eye bulging also contributes to eye drying and discomfort, as it interferes with eyelid closure during blinking and sleeping.
Many patients are able to find relief from dry eye symptoms with non-invasive measures, such as: artificial tears, lubricating gels/ointments, and by using eye covers or taping their eyes shut at night. If acute swelling causes double vision or loss of vision, surgical decompression and other surgical measures can employed to relieve optic neuropathy, congestion, pain, redness, and ocular exposure during the active phase of the disease. Generally, less invasive medical measures are used as a first line of treatment and are often all that is needed during this phase of the disease.
Remission Phase Treatment: these treatment options focus on the correction of undesirable changes to the eyes that persist even after the active phase symptoms have stabilized. Remission phase treatments often involve surgical correction of double vision, eye bulging (proptosis), eyelid retraction, and the correction and restoration of the facial appearance. There is a logical order to surgical rehabilitation. When things are done out of sequence, it is sometimes necessary to revise work that has already been done. For this reason, it is important to respect the logical order of orbital rehabilitation, which should start with consideration of orbital decompression, realigning the vision to correct double vision, adjusting eyelid position, and then restoring the aesthetic facial appearance.
Not every individual needs every stage of rehabilitation—this is a process that truly needs to be approached on a patient-by-patient basis. During your initial consultation, Dr. Steinsapir will evaluate your symptoms, determine which phase of thyroid eye disease you are presently experiencing, and create a customized treatment plan that is right for you based on your unique symptom presentation and needs.
CONTACT DR. STEINSAPIR
Dr. Steinsapir is a UCLA- and University of Chicago-trained board certified ophthalmologist and ophthalmic surgeon who has performed separate fellowships in both Cosmetic Surgery and Oculofacial Microsurgery. Many individuals travel nationally and internationally to undergo reconstructive eye surgery with Dr. Steinsapir. To learn about your treatment options for any unwelcome changes associated with thyroid eye disease, please contact our office.
You may also continue to explore Dr. Steinsapir's website (www.Lidlift.com), where you will find supplementary information pertaining to various types of reconstructive facial surgery, before-and-after reconstructive surgery case studies, and answers to frequently asked questions about these procedures. Your reconstructive procedure can serve as a key stepping stone along the path to become the best possible version of yourself, and you can take the first step by calling to schedule your personal consultation with Dr. Steinsapir today.