Asian Eyelid Surgery Beverly Hills
Double Eyelid Surgery (Asian Eyelid Surgery)
Asian eyelid surgery is a specialized type of eyelid surgery designed to enhance the contours of the eyes or to create a double eyelid fold. When performed by a skillful and properly trained cosmetic eyelid surgeon, double eyelid surgery can help patients achieve results that enhance their natural facial features and boost their self-confidence. A common misconception is that the overarching purpose of Asian eyelid surgery is to "westernize" the eyelid, when in fact this procedure is about enhancing the natural eyelid structure to fulfill your cosmetic goals and complement your natural features. LidLift offers the best Asian eyelid surgery in Beverly Hills.
As with other various types of eyelid surgery, the key to achieving exceptional results from your double fold procedure is to ensure that you have a custom-tailored treatment plan from an experienced oculofacial cosmetic surgeon such as Dr. Kenneth Steinsapir. Your eyelid surgeon must understand that every eyelid is unique and that cookie-cutter approaches to Asian blepharoplasty simply do not work. Your treatment must be meticulously tailored to flatter your unique anatomical features and personal aesthetic preferences.
Trusted Double Eyelid Surgery
Successful double fold surgery requires an incredibly high level of skill, a painstaking attention to detail, and a keen artistic vision. To achieve optimal results from your eyelid surgery you will need a physician with a proven track record of producing beautifully natural results when performing these complex procedures. You will find such a physician in Dr. Kenneth Steinsapir, a multi-fellowship-trained oculofacial plastic surgeon who specializes in customized, cutting-edge double fold eyelid surgery procedures, and who has become known for performing some of the finest Asian eyelid surgery Los Angeles has to offer.
Dr. Steinsapir is widely respected among his fellow plastic surgeon colleagues, and has patients from all over the world who travel to California to benefit from his expertise and advanced surgical skillset. Dr. Steinsapir personally plans and performs every single double fold eyelid surgery, and makes himself readily available to answer your questions and empower you with straightforward facts about your treatment options. For differentiated results, you need a cosmetic surgeon who understands how subtle differences between every eye influence treatment outcomes– someone like Dr. Steinsapir, who is arguably the most experienced professional for Asian eyelid surgery Los Angeles has to offer.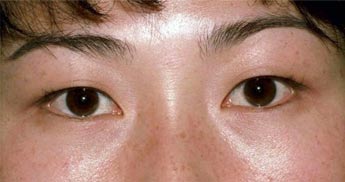 ASIAN EYELID SURGERY OPTIONS
There isn't a standardized approach to Asian blepharoplasty, because there are no two people with exactly the same set of eyes. Depending on your situation and goals, there are a number of Asian eyelid surgeries that can be customized according to your distinctive facial features and aesthetic goals:
Asian Blepharoplasty:
This surgery can revitalize your appearance by correcting sagging skin and excess fat around the eyes to restore a youthfully refreshed, well-rested appearance.
Asian Double Fold Surgery:
This technique helps to improve the eyelid contours while enhancing the natural definition of the eyes (often referred to as double eyelid surgery).
Asian Canthoplasty:
Enlarges the eye laterally at the outer aspect of the eye.
Reconstructs the appearance of the eyelids after prior unsuccessful double fold surgery, trauma, injury, or surgery for eyelid cancer treatment.
Ptosis of the eyelids refers to sagging skin that creates the appearance of a heavy or drooping eyelid. Corrective options may include eyelid surgery to remove excess upper eyelid skin or a forehead lift to brighten the appearance of the eyes and restore symmetry to the face.
Anchor Blepharoplasty:
Upper Eyelid Fold Symmetry Surgery:
Restores symmetrical balance to the eyelids while correcting any ptosis (sagging).
Micro-blepharoplasty:
This precise technique is focused on restoring the upper eyelid without the over-correction that is all too common with standard upper eyelid procedures.
A secondary procedure performed to improve upon the results of the original eyelid surgery.
Medial Epicanthal Fold Surgery:
Surgery to reduce the prominence of the medial epicanthal fold. This approach is taken to move an inside fold to an outside fold.
Love Band Surgery:
Dr. Steinsapir has been providing filler treatment to augment volume at the eyelid margin to simulate the love band procedure without surgery. He also provides management options to correct problems after the love band procedure.
The best oculofacial plastic surgeons will never say that double fold and Asian eyelid surgery is the same as every other eyelid surgery, nor will they say that there is a singular technique to guarantee a successful double fold eyelid surgery. During your initial consultation, Dr. Steinsapir will perform a comprehensive medical evaluation in order to advise you as to the best treatment protocols for the optimal enhancement of your unique facial structure, eyelid contour, and treatment goals.
Your Individualized Double Eyelid Surgery
The importance of selecting an experienced cosmetic surgeon to perform your Asian eyelid surgery cannot be overstated. Inexperienced cosmetic surgeons often base their techniques on what they have learned from plastic surgery textbooks, which recommend placing the eyelid crease incision 2-4 millimeters too high, resulting in an unnaturally long eyelid platform. Eyelid surgery specialists such as Dr. Steinsapir are informed by experience, and make the incision at the appropriate height, knowing that the incision tends to migrate upward as the eyelid heals. Dr. Steinsapir has traveled to South Korea, China, Hong Kong, and Japan to teach other surgeons his innovative approaches to the double eyelid procedure.
Dr. Steinsapir has extensive experience treating a wide range of concerns for diversely-structured eyes. He has a history of providing natural results and can show you before-and-after Asian eyelid surgery photos that demonstrate his versatile skill set. He will create a minimally invasive treatment plan that is designed to preserve as much natural tissue as possible and incorporates less-aggressive, yet highly effective techniques to facilitate faster recovery times, natural-looking improvements, and precise results. Learn more information regarding double eyelid recovery.

CONTACT DR. STEINSAPIR
Your double eyelid surgery can serve as a key stepping stone along the path to become the best possible version of yourself, and you can take the first step by calling to schedule your personal consultation with Dr. Steinsapir today. Visit the homepage to see how cosmetic eyelid surgery can help you achieve your aesthetic goals.