Reconstruction Surgery FAQ Beverly Hills
FREQUENTLY ASKED QUESTIONS ABOUT RECONSTRUCTIVE SURGERY
For your convenience, Dr. Steinsapir has compiled a list of the most commonly asked questions about reconstructive surgical procedures for the face and eyes. If your question is not answered below, please do not hesitate to contact our private practice facility, located in Beverly Hills, California. We look forward to speaking with you, and are always available to answer any questions or concerns you may have.
Will my health insurance cover the cost of my reconstructive surgery?
Dr. Steinsapir's services are all self-pay—he does not accept any form of health insurance (including Medicare, Medi-Cal, and Medicaid). Each patient is directly responsible for the cost of Dr. Steinsapir's surgeon's fee. Depending on the details of your health coverage, you insurance may reimburse you for a portion of the hospital fees (i.e. anesthesia, pathology fees, and UCLA hospital fee) for your reconstructive surgery. If you have questions regarding insurance coverage of your procedure, please contact our office—our helpful staff members will be happy to work together with you to address any confusing health insurance issues.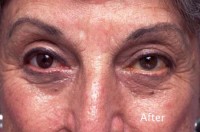 I am a school teacher and I am thinking of having reconstructive surgery with Dr. Steinsapir during my winter break. How much notice do I need to give Dr. Steinsapir's office?
Our office typically schedules non-emergency surgeries 6-9 months ahead. Occasionally, cancellations will occur, making it possible to have surgery on shorter notice. However, we encourage all of our patients to plan ahead, especially if you would like your reconstructive surgery scheduled during busy times of the year, such as winter break.
I had a cancerous growth removed from one of my eyelids and a reconstructive eyelid procedure performed at the same time. Although I am grateful to be cancer-free, I am very dissatisfied with the aesthetic results of my surgery. Can reconstructive surgery with Dr. Steinsapir enhance the aesthetic outcome of my previous eyelid surgery?
This is a common situation. Your previous surgeon may have performed the best possible reconstruction under the circumstances, but we find that a fresh set of eyes can be very helpful. A personal consultation with Dr. Steinsapir will serve to either reaffirm your current doctor's treatment strategy, or provide you with a new direction to improve your appearance following cancer reconstruction. Most patients find this a very helpful and informative visit. Dr. Steinsapir is highly skilled at performing intricate revisional procedures, and in many cases he is able to help patients achieve their desired aesthetic results.