Asian Eyelid Surgery (Blepharoplasty) Before and After Pictures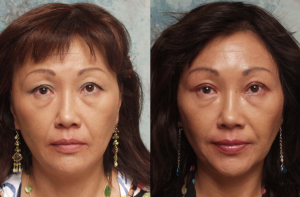 Eyelid lift surgery, or blepharoplasty, is a specialized form of eye surgery designed to correct minor cosmetic deviations in the shape and balance of the eyes, or improve and rejuvenate the appearance by eliminating signs of aging such as eyelid sagging and the accumulation of excess fatty deposits. Asian blepharoplasty  or Asian eyelid surgery is a highly specific form of eyelid lift surgery that achieves similar results for individuals of Asian descent, while maintaining the natural beauty and form of the Asian eye. This specialized cosmetic surgery offers a number of benefits for Asian patients, including:
Restoring a youthful, refreshed appearance by tightening sagging skin and eliminating excess fatty deposits around the eyelids
Improving the contours of the eyelids while enhancing the natural definition of the eyes
Correcting minor cosmetic deviations to bring the eyes into balance and harmony with other facial features
Creating definition in the upper eyelid, whether or not a double fold is visible
Restoring beautiful facial symmetry

These "Before and After" photos of real patients who have had Asian eyelid lift surgery performed by world-renowned oculofacial and cosmetic surgeon Dr. Kenneth Steinsapir in Beverly Hills, California clearly demonstrate these dramatically rejuvenating benefits of Asian blepharoplasty. Moreover, as these photos of Dr. Steinsapir's patients show, Dr. Steinsapir's extensive knowledge of the specialized techniques required to successfully perform eye surgery on individuals of Asian descent enable results that enhance the brightness of the eyes, improve the symmetry of the face, and rejuvenate the overall appearance while still maintaining the natural shape and contours of the eyes. As these photos also clearly show, the goal of Asian blepharoplasty is not to "Westernize" the eyes, but to bring out the natural beauty of the eye's genetically-determined shape. Dr. Steinsapir utilizes specialized, less invasive surgical techniques that are specifically designed to harmonize with the delicate, intricate structures of Asian eyes.
Dr. Steinsapir
Dr. Steinsapir's extensive surgical skillset, artistic talent, unique surgical techniques developed specifically for Asian eyelid lift surgery, and his personalized, detail-oriented approach enabled the amazing outcomes seen in these Before and After photos, and have given him an international reputation as one of the leading experts in Asian blepharoplasty. These photographs are not stock photos, but are pictures of actual patients with whom Dr. Steinsapir has personally worked. They have not been "doctored", "Photoshopped", or manipulated in any way to exaggerate the success of the results you see. Instead, these photos show real people, who received exceptional facial rejuvenation performed personally by Dr. Steinsapir.
If you are interested in Asian blepharoplasty, the first step is to schedule an individual consultation with Dr. Steinsapir at his beautiful, peaceful office in Beverly Hills, California. During this extensive consultation, he will listen to your unique aesthetic goals in order to develop a personalized surgical plan utilizing his forward thinking, less invasive surgical techniques designed to subtly revitalize your appearance, while enhance your natural, uniquely beautiful self! If you would like more information on Asian blepharoplasty or any other eye surgery or cosmetic surgery with Dr. Steinsapir, or would like to schedule your consultation, we encourage you to call our Los Angeles office today; we look forward to hearing from you!
Contact
To learn more about procedures and treatments performed by Beverly Hills | Los Angeles Facial Plastic Surgeon, Dr. Kenneth Steinsapir, contact us at 310-274-7422

Filed under: