Beverly Hills Asian Eyelid Surgery Details
Asian Eyelid Surgery Details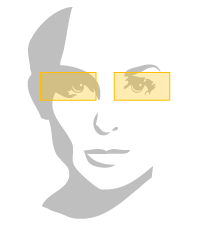 Asian blepharoplasty is a specialized type of eyelid surgery designed to enhance the eyelid contour for Asian individuals. Asian eyelid surgery with a skilled and properly trained oculoplastic surgeon can help you achieve results that improve your natural aesthetic and build confidence. Like other specialized types of eyelid surgery, the key to exceptional Asian blepharoplasty is receiving a custom-tailored treatment plan from an experienced oculofacial cosmetic surgeon who understands that your eyes are as unique as you are.
Depending on your situation and goals, there are a number of types of Beverly Hills Asian eyelid surgery that are customizable according to your needs. Asian blepharoplasty can revitalize your appearance by correcting sagging skin and excess fat around the eyes to replace an aged, tired look with a restored, youthful glow. Asian double fold surgery can improve the eyelid contour for those wishing to enhance the natural definition of the eye. For some, other kinds of Asian eyelid surgery may be more appropriate to address your goals, such as Asian canthoplasty or eyelid restoration surgery, ptosis surgery, and anchor blepharoplasty, upper eyelid fold symmetry surgery, and microblepharoplasty. The best treatment for you really depends on your unique eyes and desired results.
There is no one standard approach to Asian blepharoplasty, because there are no two people with exactly the same set of eyes. If you seek improvement in your eyelid appearance, you are right to seek it from a physician with specialized experience in Beverly Hills Asian eyelid surgery. We invite you to consider the facts about Asian eyelid surgeries like blepharoplasty and Asian double eyelid surgery, and then consider how Dr. Steinsapir´s prestigious education and specialized experience make him exceptionally qualified to help you achieve your desired look.
>> The Plain Facts about Asian Eyelid Surgery
>> Exceptional Service. Individualized Treatment. Differentiated Results.
>> Seek an Individualized Approach
>> Ptosis and the Asian Eyelid
Asian Eyelid Case Study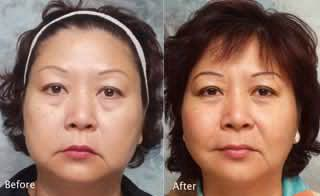 Frequently Asked Questions
Finding the Best Asian Eyelid Surgeon
Many wonder if Asian doctors make the best Asian eyelid surgeons. This seems like a natural question to ask, even if it is not the most logical upon closer examination. A surgeon is as good as his or her training, skill, experience, ethical values, education, leadership, medical understanding, and a myriad of other dynamic factors that come together to make a capable and reputable physician. Every physician has particular areas of strength and specialization, so of course you will not choose the same surgeon to operate on your heart, brain, or eyelid. You of course will choose the specialist. So, in short, the best Asian eyelid surgeon is a specialist. There are many Asian doctors who are excellent at performing procedures like Asian blepharoplasty and double fold surgery, and this is because they have studied and specialized in Asian eyelid surgery.
Nobody is born with an innate knowledge of medicine. Yes, becoming the best oculoplastic surgeon does require developed talent and artistic vision, while it also requires years of study, focus, training, and experience. These factors depend on the individual surgeon. It is therefore wise to evaluate potential surgeons not based on their own photo or ethnicity, but on their credentials, expertise, and clinical experience.
A Unique Approach
Asian eyelid surgery should not be approached in a cookie-cutter fashion, but then again, neither should any eyelid surgery. While it is important that your doctor has experience and training in treating the distinctive features of Asian eyelids, it's also important that both you and your doctor understand that there is no one standard approach to Asian eyelid surgery. When everyone has unique eyes and distinctive features, how could there be one method that works for everyone? There is a wide range of characteristics among Asian eyelids that vary based on the individual. The approach should therefore emphasize results that enhance the natural features, rather than aiming to "westernize" the eye. This common misconception is rarely the goal of Asian eyelid surgery.
The most qualified Asian eyelid or blepharoplasty surgeon for giving you natural results will be someone who specializes in oculoplastic surgery for Asian features and has treated a variety of eyelid shapes and concerns by custom-tailoring each procedure to the individual.
Consult with an Expert
To find the doctor best suited for your needs, seek someone with extensive oculofacial cosmetic surgery experience and training who has also demonstrated an exceptional ability to treat a variety of eyelid concerns. This should include a solid understanding of how to maintain the natural beauty of Asian eyelids and a recognition that every eyelid is different and cannot be improved by simply following assembly line instructions.