Dr. Kenneth Steinsapir is a leading oculofacial surgeon providing state of the art cosmetic surgery, eye surgery, and other procedures. LidLift.com is the new website launched by Dr. Steinsapir, which includes a comprehensive overview of the practice and the procedures offered.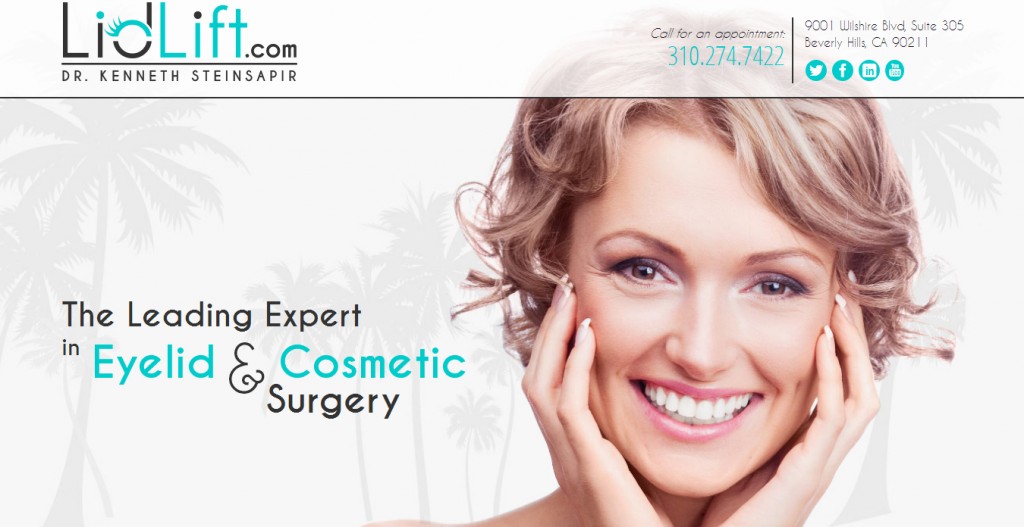 The website also provides a detailed insight into the qualifications, training, experience and achievements of Dr. Steinsapir as a reconstructive and cosmetic surgeon of eminence. He receives patients from Beverly Hills, Los Angeles, and other parts of the country and even international patients for various surgical and non-surgical procedures.
Section on Dr. Steinsapir
LidLift.com talks about the extensive academic background of Dr. Steinsapir. New patients can review this section of the website to familiarize themselves with Dr. Steinsapir's professional status, and learn about his world-class training, expertise, and experience as an oculofacial surgeon.
His award-winning journey in the field of eye surgery and cosmetic surgery began from the medical school at UCLA, followed by a residency in Ophthalmology at the University of Chicago. He has received multiple fellowships to hone his advanced skills as a cosmetic surgeon. Patients in Beverly Hills, Los Angeles, and other areas have an opportunity to receive a wide range of surgical and non-surgical procedures at his state of the art practice.
Section on Eyelid Surgery
As a highly qualified eyelid surgeon and a board certified ophthalmologist, Dr. Steinsapir provides a wide range of procedures to address functional as well as aesthetic eyelid related concerns. LidLift.com provides dedicated information in separate web pages for each of the following procedures provided at the practice:
Eyelid Surgery (Blepharoplasty)
Revisional Eyelid Surgery
Asian Eyelid Surgery
Eyelid Malposition
The website also includes separate FAQ sections to answer most of the commonly asked questions and address the patients' queries adequately.
LidLift.com serves as a comprehensive information resource on facial surgery procedures. Dr. Steinsapir is an experienced facial plastic surgeon with expertise to address a range of problems related to different facial structures. Details about the following procedures are provided at the website:
Facelift
Forehead Lift
Midfacelift Surgery
Lower Face and Neck Liposuction
LidLift.com provides in-depth information about a variety of outstanding, sterling, and cutting edge safe non-surgical procedures. Dr. Steinsapir stays updated with the latest advancements and innovations in the field of non-invasive and minimally invasive aesthetic treatments to provide the best options to his patients. Some of the key procedures discussed at the website include the following:
Dr. Steinsapir's Patented Microdroplet Technique
Botox/Xeomin/Dysport
Restylane®/Restylane Lyft®
Deepfill Dark Circle Treatment
Chemical Peel
Fotofacial
Section on Reconstructive Surgery
The following reconstructive surgery procedures are available at Dr. Steinsapir's practice, which can be reviewed at LidLift.com:
Scar Revision and Reconstructive Midface Surgery
Eyelid Malposition (Ptosis, Entropion, Ectropion)
Orbital Surgery and Anophthalmic Socket
Lacrimal Surgery
Thyroid Eye Disease
Cancer and Post-Cancer Reconstruction
Bells Palsy and Facial Nerve Injury
The website also provides detailed information on body procedures such as liposuction. Other sections on LidLift.com include a Photo Gallery, Blog, and a section on How to Choose a Surgeon.

To learn more about procedures and treatments performed by Plastic Surgeon, Dr. Kenneth Steinsapir, contact us at 310-274-7422.

Filed under: