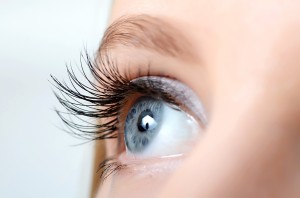 Many patients who come to Dr. Kenneth Steinsapir seeking a consultation on cosmetic surgery are surprised to learn that small, precise alterations to eyelids can have a truly transformative impact on the entire face! Their central position in the face, the symmetry and balance (or lack thereof) they bring, and the fragile, delicate nature of the skin around the eyes, make the eyes a key component of our modern standards of "beauty". Yet unfortunately, even small imperfections due to genetics, trauma, environmental exposure, and the effects of time can have a devastating impact on your appearance, your self-confidence, and even your emotional well-being.
Innovative and Cutting-edge Eye Surgery
World-renowned oculofacial and cosmetic surgeon Dr. Kenneth Steinsapir provides innovative and cutting-edge eye surgery to patients around the world who are dissatisfied with the appearance of their eyes and are seeking dramatic, long-lasting rejuvenation and enhancement. Unfortunately, traditional eye surgery techniques often undermine the underlying structure of the eye and deliver only mediocre results (or at worst actually compromise the patient's overall appearance). Dr. Steinsapir's more advanced, less aggressive surgical techniques focus on maintaining the underlying musculature of the eye in order to deliver stunning eye enhancement that blends seamlessly with facial contours, restores balance and harmony of facial features, and subtly improves the face's natural beauty.
At his private surgical practice in Beverly Hills, California, Dr. Kenneth Steinsapir offers an extensive menu of eye surgery options, each of which is 100% customized to achieve the unique aesthetic goals of each individual patient.
Specific techniques offered by Dr. Steinsapir include:
Blepharoplasty (eyelid lift surgery): creates a brighter, fresher appearance by eliminating common signs of aging around the upper and/or lower eyelids
Revision eye surgery: corrects unappealing and disappointing results of prior eye surgery performed using improper, subtractive techniques
Canthoplasty: corrects the natural tilt of the eye to resolve saggy or heavy eyelids, an unbalanced appearance, or other aesthetic concerns
Asian eyelid surgery: improves the shape of the eye and the eyelid while maintaining and enhancing the distinctively "Asian" appearance of the eye
Transform Your Eyes
If you are seeking dramatic, truly transformative alterations to your eyes that will complement and enhance your natural beauty, we encourage you to select leading oculofacial and cosmetic surgeon in the Beverly Hills area: Dr. Kenneth Steinsapir. A UCLA- and University of Chicago-trained surgeon, Dr. Steinsapir has a distinctive level of training rare among cosmetic surgeons, having completed three rigorous training programs in cosmetic eye surgery. But perhaps even more important than his extensive training and expertise is his dedication to offering each and every patient a personalized, fully-customized approach. Dr. Steinsapir does not believe in using "cookie cutter", one-size-fits-all techniques. Instead, he meets personally with every patient, takes the time to carefully review each patient's unique goals and diagnose the causes of their dissatisfaction at the source, then develops a carefully-tailored surgical plan designed to make only those alterations that are suited to that patient's unique anatomy and facial structure. The result: dramatic, stunning eye rejuvenation that will enable your eyes to shine and sparkle for years to come!

For more information on eye surgery or cosmetic surgery with Dr. Kenneth Steinsapir, we encourage you to visit www.lidlift.com or contact Dr. Steinsapir today for an individual consultation.

To learn more about procedures and treatments performed by Beverly Hills | Los Angeles Facial Plastic Surgeon, Dr. Kenneth Steinsapir, contact us at 310-274-7422

Filed under: