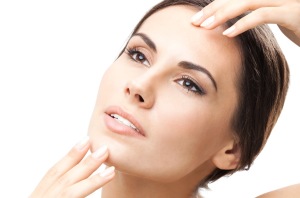 Forehead lift surgery, also known as a browlift or eyebrow lift, is a specialized cosmetic surgery procedure designed to rejuvenate your facial appearance by smoothing away furrows and lines across the forehead, eliminating frown lines, and lifting and elevating the position of the eyebrow line. When performed by a skilled, talented cosmetic surgeon such as Dr. Kenneth Steinsapir in Beverly Hills, CA, this powerful, highly-effective procedure can enhance and revitalize your entire appearance by restoring your healthy, youthful look of vivacity, energy, and joie de vivre!
What Happens During Forehead Lift Surgery?
Dr. Steinsapir performs most of his forehead lift surgeries under intravenous sedation at UCLA's outpatient surgery center, where he is an Associate Clinical Professor and Attending Surgeon. During the procedure, Dr. Steinsapir will make a series of very small incisions behind the hairline that enable him to access the structures of the forehead. In the past, this procedure required large incisions that often led to numbness in the scalp, visible scarring, and loss of hair; today, however, Dr. Steinsapir utilizes a less invasive, endoscopic approach that requires significantly smaller incisions and minimizes the risk of these complications and side effects.
Once the structures of the forehead have been precisely modified to achieve the desired rejuvenating effect, they are secured to ensure proper healing. Dr. Steinsapir relies on two different brow fixation options, depending on your unique facial anatomy and the extent of the rejuvenation required:
Coapt Endobrow Endotine: this small plate is fixed to the forehead bone to offer support during the healing process; it is completely covered and dissolves naturally on its own
Microscrew Fixation: the brow is supported with three or four tiny "microscrews", accompanied by a small staple behind each post; these are concealed within the hair and are removed approximately three weeks after surgery
By performing this surgery under IV sedation rather than general anesthesia and by utilizing less aggressive surgical techniques such as the small incision endoscopic approach, Dr. Steinsapir's patients generally experience less discomfort, faster healing time, and reduced risk of operative and post-operative complications. However, most patients will still experience some post-operative swelling and bruising and should plan on taking at least a week of downtime to recover; most patients can expect to return to their normal work routine and activities within 7-10 days after their procedure.
Why Select Dr. Kenneth Steinsapir as Your Surgeon?
Dr. Kenneth Steinsapir is a world-renowned board certified ophthalmologist and double-fellowship trained oculofacial and cosmetic surgeon whose innovative, less aggressive surgical techniques consistently deliver stunning, natural-looking facial rejuvenation with as little discomfort, downtime, and risk of complications as possible. With a level of training and experience that is truly second-to-none, Dr. Steinsapir offers his patients something more: a 100% personalized approach involving a thorough, in-person consultation and a surgical plan designed to match your unique anatomy and achieve your unique aesthetic goals.

If you are interested in learning more about forehead lift surgery with Dr. Steinsapir or would like information on other eye surgery or cosmetic surgery options with Dr. Steinsapir, we encourage you to schedule your consultation at our Los Angeles, California office today. We look forward to hearing from you!

To learn more about procedures and treatments performed by Beverly Hills | Los Angeles Oculofacial Plastic Surgeon, Dr. Kenneth Steinsapir, contact us at 310-274-7422.

Filed under: