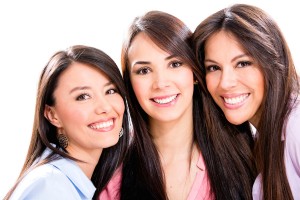 The eyes are a central features of the face, an essential element in communication with the world and a critical part of our individual beauty, and even the smallest alteration can have a dramatic impact on the entire face. Eye surgery (blepharoplasty) is one of the most popular forms of cosmetic surgery in the United States today, and when properly planned and performed by a qualified, experienced surgeon, the results can be stunning. However, if poorly performed, the results can be devastating.
If You Are Unhappy with the Results of a Prior Eye Surgery, Dr. Kenneth Steinsapir Can Help!
Revision eyelid surgery is a difficult procedure designed to correct the results of a prior eye surgery or improve upon disappointing results. Because revision surgery is so complex, it is critical to select a talented surgeon with the training and skill-set to avoid further complications and ensure beautiful, natural-looking results. Dr. Kenneth Steinsapir is a world-renown oculofacial and cosmetic surgeon with years of specialized training, including three years of fellowship training in orbital and eyelid surgery at UCLA School of Medicine's prestigious Jules Eye Institute. In his private practice in Beverly Hills, he has developed cutting-edge, less-invasive surgical techniques that enable him to achieve superior aesthetic results with less surgical risk, less discomfort, and less risk of post-surgical complications.
Do I Need Eyelid Revision Surgery?
If your original eyelid surgery was performed less than six months ago, it is possible that your dissatisfaction stems from post-surgical complications that can be treated and resolved without surgery. Dry eye, motor nerve damage, hemorrhage and bruising, infection, wound dehiscence (stitches that have come apart to reveal raw edges of skin), tissue swelling, double vision, and scarring can be problematic and irritating, but in many cases non-surgical treatments are available. If symptoms persist longer than six months, then you may need to consider eyelid revision surgery.
For most patients who had eye surgery more than six months ago, disappointment in their appearance is usually the driving force behind revision eyelid surgery. This dissatisfaction may stem from a lack of proper surgical technique, so the original concern was not corrected, or the resulting changes were simply not dramatic enough. Common aesthetic concerns include:
Upper eyelid skin remains saggy
Lower eyelid skin remains saggy or fatty
Too much eyelid skin was removed
The forehead and eyebrows continue to sag and droop
Chronic appearance of lower eyelid lines
Extra muscle or skin trapped on the upper eyelid platform
Upper eyelid creases were poorly designed
Visible scarring
Failed lateral canthal surgery
If one or more of these aesthetic problems has led to persistent dissatisfaction with the results of your eyelid surgery, we encourage you to schedule a consultation with Dr. Steinsapir. Dr. Steinsapir believes in the critical importance of an open, honest dialogue between surgeon and patient, starting at your first visit and continuing long after the surgery to ensure successful, long-term results. He will listen closely to your concerns and work with you to develop a personalized surgical plan designed to correct your problematic areas and ensure dramatic, naturally-subtle results!

Dr. Steinsapir's private surgical practice is located in beautiful Beverly Hills, California. If you are displeased with the results of a prior eye surgery, we encourage you to contact Dr. Steinsapir today. We look forward to hearing from you!

To learn more about procedures and treatments performed by Beverly Hills | Los Angeles Oculofacial Plastic Surgeon, Dr. Kenneth Steinsapir, contact us at 310-274-7422

Filed under: