Lower Eyelid Surgery (Blepharoplasty)
If you have elected to have lower eyelid surgery with Dr. Kenneth Steinsapir, world-renown oculofacial and cosmetic surgeon in Beverly Hills, California, you can be certain that you have selected a skilled, experienced surgeon who is committed to making the safety and comfort of his patients his first priority. His forward-thinking, minimally-invasive surgical techniques are specifically designed to safeguard your health, while delivering stunning eye rejuvenation that will refresh your entire appearance and revitalize your natural beauty.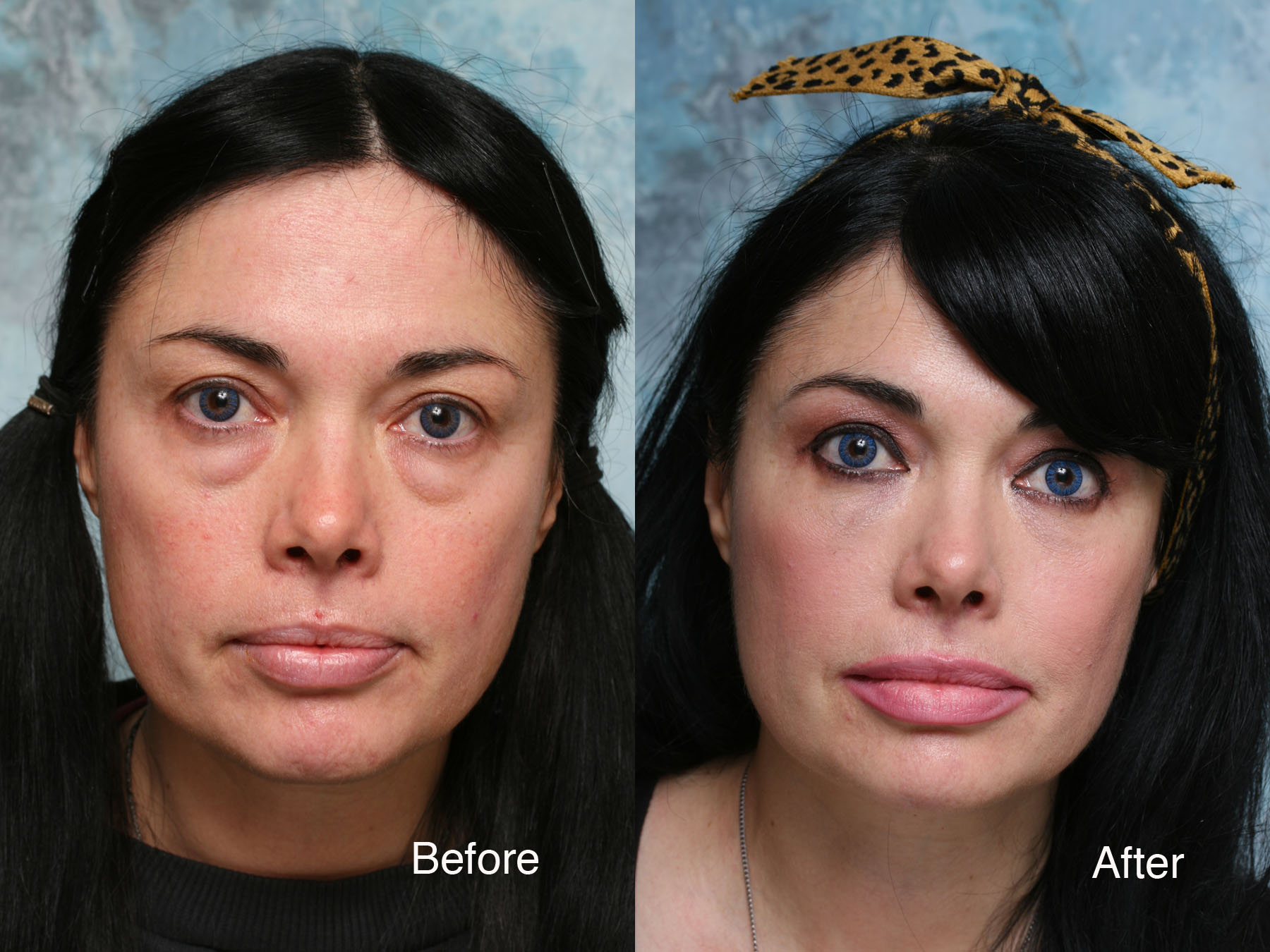 However, even in the skillful hands of Dr. Steinsapir, lower eyelid surgery is cosmetic surgery on an extremely delicate and fragile part of the face, and while the final results will bring subtle changes that harmoniously blend with the natural balance of existing facial features, lower eyelid surgery entails certain risks and will necessitate recovery and down time. During your initial consultation, Dr. Steinsapir will review the benefits and risks of lower eyelid surgery, as well as outline specific instructions for your recovery period. Following the instructions provided by Dr. Steinsapir before and after your procedure will help minimize discomfort and keep your recovery from eye surgery on the right track.
Common Side Effects
The most common side effects from lower eyelid surgery are bruising and minor swelling, but these are usually temporary and disappear quickly. Most patients find that they can resume work and normal social activities in 7-10 days, and some find that they are able to leave the house for short, easy errands sooner than that. If you do go out during your recovery, it is important to wear sunglasses to protect the eyes from sun damage. All patients are encouraged to begin walking the day after surgery, but patients with an active exercise routine are encouraged to wait about three weeks before returning to the gym, and may need to wait longer to resume strenuous workouts. Again, during your initial consultation, Dr. Steinsapir will work with you to develop a personalized recovery plan that takes into account your current state of health and your specific lifestyle.
Recovery
If you have any questions during your recovery, you should feel comfortable calling Dr. Steinsapir to discuss your concerns. Dr. Steinsapir prides himself on his accessibility to his patients, and this accessibility will not end after your procedure. If you are wondering whether you should be concerned about something after your procedure, it is best to go with your instinct; chances are that if you feel like something is wrong, there probably is. If you experience significant pain, any bleeding, or a change in vision, it is critical that you call Dr. Steinsapir right away, as these could be indications of a more serious complication or side effect.

Perhaps the hardest part of your recovery will be waiting to see your rejuvenated, refreshed appearance, and while it may seem to take forever, the revitalizing impact of your lower eyelid surgery should become apparent after several months. Your friends may not be able to tell why you look so refreshed, but more than likely, they will notice your youthful, naturally-gorgeous glow!

If you have questions about recovery from lower eyelid surgery or if you would like more information about eye surgery or other cosmetic surgery procedures with Dr. Kenneth Steinsapir in sunny Los Angeles, California, we encourage you to visit www.lidlift.com or contact our office today!

Filed under: