Non-surgical Treatment for the Double Chin
The FDA just approved the drug Kybella as a non-surgical treatment for the double chin. Kybella is the product name for the research drug ATX-101, a proprietary synthetic deoxycholic acid. This compound is naturally made by the liver to brake down fats. Physicians have been using these types of compounds to spot reduce fat on the body for the past 20 years. The compounds are effective as is Kybella with some very important limitations and concerns.
Very careful clinical studies were the basis for the FDA approval. Treatment is placed by injection in up to 4 sessions approximately one month apart. That means that the treatment effect is not immediate but can require up to 4 months to achieve the result. It is also important to understand that not all patients having treatment achieved a successful result. The studies have investigated two treatment levels, a low dose and a high dose treatment. The studies also have a control arm of patients who only received saline injections. Interestingly 23% of patients treated with placebo saline injections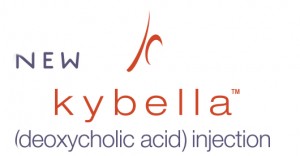 had treatment benefit. In the low dose group, 67% of patients responded and 74% responded in the high dose group. While this is encouraging, this also means that in the low dose group almost 33% did not respond and in the high dose group, 26% did not respond. While the company marketing Kybella has not announced pricing yet, this is a disappointing low response rate for what is a lengthy and likely relatively expensive treatment.
Side Effects
In further assessing this treatment, it is helpful to consider the side effects of treatment. The formal studies call these side effects "treatment-emergent adverse events." This includes a wide range of issues after treatment from expected effects of getting numerous injections in the neck to unanticipated complications. The most common events included injection site pain, swelling, numbness, bruising, redness, and tissue firmness also known as induration. The authors of these studies suggested that most of these issues resolved in the 28 days between treatment, meaning some of these issues were not resolved prior to the next treatment. These studies where associated with significant levels of participant drop out and these treatment emergent adverse events were seen in almost all patients (91% of the low dose ATX-101 treatments and 95% of the high dose ATX-101 treatments). The frequency of treatment adverse events probably explains the high rate of study drop out (27% of patients getting ATX-101).
FDA Approved
We are convinced that at whatever price point this service is eventually established, it will have a place in the market. However, this treatment is not new. What is new is that the drug being used will now be FDA approved and much more consistent and better studied than the mesotherapy treatments used in the past. Will Kybella be a better option for you than a liposuction for the same issue? We think that for many, perhaps, most, the answer will be no. While neck liposuction is technically a surgery, it is a surgery that can be very comfortably performed under local or local with a little sedation. Down time is minimal and recovery is remarkably fast. Many patients only take a couple of days out of their schedule for this service. The treatment is very reliable and there is often very little bruising. Generally no stitches are needed. Compare this with the Kybella (ATX-101) treatment requiring up to 4 sessions separated by 28 days (4 months). There are a lot of side effects, which, while temporary, are associated with evidence that you are having some sort of treatment. If the argument for Kybella is the avoidance of a surgery, remember that treatment with Kybella requires up to 60 injections per treatment and up to 4 treatments, not exactly minimally invasive when you consider the post injection swelling, bruising, and lumpiness. The liposuction is a single service with a very short effective recovery time.
Kybella or Liposuction?
Ultimately the choice is best made between you and your cosmetic surgeon. As you listen to the media stories about Kybella, keep in mind the actual facts of the treatment as you decide if Kybella or a neck liposuction is right for you. We think for many people, neck liposuction will continue to be a wildly popular service for very good reason.
About Dr. Steinsapir
Dr. Steinsapir is a board certified eye surgeon and fellowship-trained in oculoplastic surgery and cosmetic surgery in Los Angeles where he specializes in balanced facial cosmetic surgery for natural results, with an emphasis on minimally invasive techniques, fast recovery time, and leadership in medical technology. Dr. Steinsapir has a private practice and also serves as an Associate Clinical Professor of Ophthalmology at the Jules Stein Eye Institute, at the David Geffen School of Medicine at UCLA. Contact us today to learn how Dr. Steinsapir's experience and training make him an expert in cosmetic surgery, which can be a vital part of your evidence-based treatment plan.

Services described may be "off-label" and lack FDA approval. This article is informational and does not constitute an advertisement for off-label treatment. No services should be provided without a good faith examination by a licensed physician or surgeon and an informed consent with a discussion of risks, benefits, alternatives, and the likelihood of treatment success. Only you and your treating physician or surgeon can determine if a treatment is right for you.

To learn more about procedures and treatments performed by Beverly Hills | Los Angeles Oculofacial Plastic Surgeon, Dr. Kenneth Steinsapir, contact us at 310-274-7422

Filed under: