You're considering eyelid surgery, but how do you know which surgeon to choose? You can feel confident going into oculoplastic surgery given that you've done your homework, have open and complete communication with your surgeon, and settle for nothing but the best. That may sound oversimplified, so let's overview what actions and considerations you should make with each step.

Doing Your Homework
When you make long-term decisions, you probably put a lot of thought into your plans. If you're buying a house, you'll think about how long you'll want to live there, if it's in a safe neighborhood, if it will help you focus on what's important to you be it your family or career or hobbies, if it's a place you'll feel good in, if it's well-built and reliable. In other words, you do your homework.
Eyelid surgery is also an investment with long-lasting benefits that can help improve your appearance and confidence, maintain an executive image, and improve eyelid function, among other benefits; so learn as much as you can about eyelid surgery, and research the leading oculoplastic surgeons to find someone you can trust. For optimal, natural-appearing results your surgeon needs to be a specialist who is highly trained in eyelid surgery, has extensive experience, and has proven results that can be demonstrated both through unretouched before-and-after photos, and through positive testimonials and an esteemed reputation.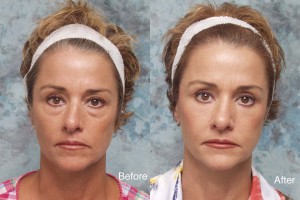 Effective Communication with Your Surgeon
Take some time to talk to your doctor about your goals, and listen seriously to his or her recommendations. They should make sense to you, and you should feel free to ask all the questions you have along the way to ensure that you feel comfortable and confident both before and after surgery. Ask your doctor about his or her approach, experience, and professional background. If he or she has a website, take time to review it. Your doctor should be up-front and transparent with you regarding everything from benefits, potential complications however unlikely, the cost involved, what the recovery process is typically like, what your aftercare plan will look like, and what you can expect moving forward,.
Not only should you feel comfortable asking these questions and feel good about your doctor's answers, it is also your responsibility to be honest about your medical history, any medications or health conditions you may be taking, what you would like to achieve, and so on. The more your surgeon understands your position and expectations, the better he or she will be able to help. Be sure to take his or her recommendations seriously; the best doctor will let you know if you are a candidate for eyelid surgery or if a different procedure may be more advantageous in addressing your particular needs.
The Importance of Specialization
With a long-term investment like eyelid surgery, it doesn't pay to cut corners. Rather, you should look for the very best doctor you can find. It is critical to see a specialist (like a fellowship trained oculoplastic surgeon) rather than a generalist due to the very detailed, sensitive, and complex nature of eyelid surgery. Because our brains are highly attuned to the expressive nature of the eye, even subtle changes in the eyelid contour or minor asymmetries can make a big difference in how others perceive you. This is why eyelid surgery can be very a very powerful improvement; and it's also why the skill of the surgeon is essential. An experienced eyelid surgeon will be able to custom-plan your surgery to achieve natural-looking results.
An oculoplastic surgeon is first and foremost a board certified ophthalmologist with specialized training in the finest microsurgical techniques needed to operate on the eye. Fellowship training follows three years of training in ophthalmology residency. Oculoplastic fellowships are among the most competitive and sought after training program in all of medicine. There are approximately 24 two-year training positions in the entire United States. Only half of these positions are open each year. Following this, some oculoplastic surgeons go on to do additional training in cosmetic surgery. Yes, other specialties offer eyelid surgery but no speciality offer the depth of training and range of skills that oculoplastic surgeons bring to eyelid surgery.
About Dr. Steinsapir
Dr. Steinsapir is a board certified eye surgeon and fellowship-trained in oculofacial plastic surgery and cosmetic surgery in Beverly Hills where he specializes in balanced facial cosmetic surgery for natural results, with an emphasis on minimally invasive techniques, fast recovery time, and leadership in medical technology. Dr. Steinsapir has a private practice and also serves as an Associate Clinical Professor of Ophthalmology at the Jules Stein Eye Institute, at the David Geffen School of Medicine at UCLA. Contact us today to learn how Dr. Steinsapir's experience and training make him an expert in cosmetic surgery, which can be a vital part of your evidence-based treatment plan.
Services described may be "off-label" and lack FDA approval. This article is informational and does not constitute an advertisement for off-label treatment. No services should be provided without a good faith examination by a licensed physician or surgeon and an informed consent with a discussion of risks, benefits, alternatives, and the likelihood of treatment success. Only you and your treating physician or surgeon can determine if a treatment is right for you. These images are the unretouched before and after photographs of actual patients of Dr. Steinsapir. Your results may vary.