This was asked in the first email from one of my patients. She wanted to share her experience but maintain her privacy. The photos are of other patients so she would not be identified. However, I very much appreciate this letter, her understanding of the technical details, and how fixing her prior surgery has changed her life. I am honored and humbled that she took the time to write this. So, with her permission, I am sharing it with you-Dr. Steinsapir:
"I wanted to freshen my look and I always had a bit of extra skin in my upper eyelids. I saw several surgeons and settled on a very well known surgeon who has even appeared on TV. The office was very nice and even though I only saw the surgeon for a relatively brief consultation before surgery. He seemed very confident and agreed that I was a candidate for upper eyelid surgery. In hindsight, I should have asked more questions. Now that I have seen Dr. Steinsapir, I realize my original surgeon basically did not even examine me!"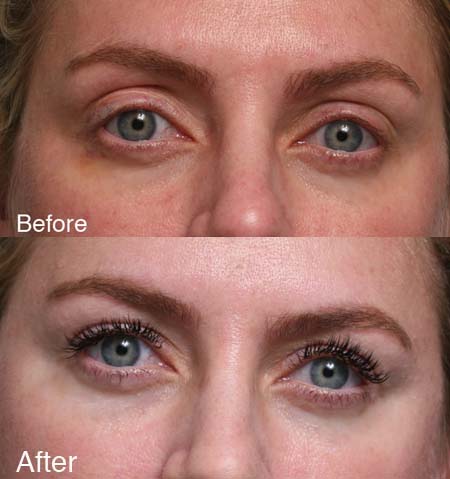 "My surgery was a disaster. I knew it as soon as I saw my eyes. I had extra skin in my upper eyelids, for sure. But after the eyelid surgery, it was like every thing was gone! My full upper eyelids were hollow, forgive me, like my 80-year old grandmother's eyes and I am only in my thirties! On top of this, the eyelids now seemed heavier, even droopy. I never had that problem before. Even the eyelashes seemed droopy and the skin just above my eyelashes was loose and wrinkled. Applying make up was a nightmare-my shadow wouldn't stay put and always smudged. I went from happy eyes to sad, old eyes. The surgeon kept telling me it was a great result but I knew it wasn't. I felt devastated. My old eyes weren't really bad. I blamed myself for being so vain. I stopped dating and socializing. I honestly felt embarrassed to be seen in public which was hard because I work as an actor."
"I knew I could not live with the result but I wasn't sure anything could be done. I read about fat grafting but the results did not seem so good. I thought upper eyelid fillers might be helpful. This time I decided to get several consultations before deciding what to do. Most of the doctors I saw, all of them well-known plastic surgeons in Beverly Hills, told me there was absolutely nothing that could be done surgically, except one. They explained that too much skin had been removed. They offered me upper eyelid fillers and fat grafting. One wanted to perform a forehead lift, and another, a boob job. It was really discouraging."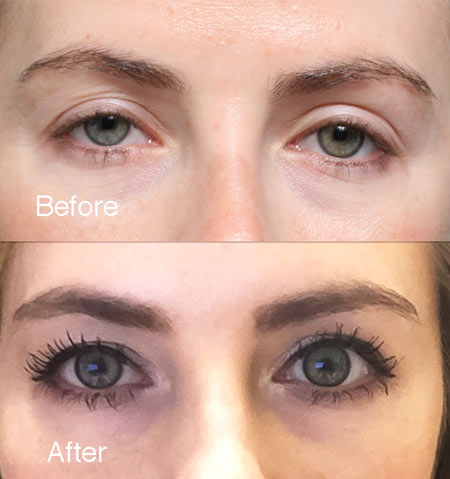 "Then I had my consultation with Dr. Steinsapir. What a difference! First, I was able to immediately speak with the office and did not have to deal with endless voicemails. Faith, Dr. Steinsapir's assistant, was incredibly helpful and knowledgeable. I mean she knew everything about my issue and what I had been going through. I have seen Dr. Steinsapir's video so I was aware that he is doing something completely different than other surgeons. I scheduled a personal consultation with him. The office is beautiful, and unlike other offices, this place is super clean! Some of the offices I went to, the furniture in the waiting room is run down and tired. Some had dust bunnies in the corners. You really don't want to see a dirty carpet when you are thinking about having surgery."
"My consultation with Dr. Steinsapir was almost 2 hours. I spent another hour with Faith in the office. Dr. Steinsapir carefully asked me about my concerns, why I was seeing him, and what my goals were. He asked about prior surgery, how I felt about my surgery, if it causes me discomfort and what I did to make that better. He wanted to know how I would change my appearance and studied the pictures of me before my surgery, and pictures of me from my modeling days when I was very happy with the eyelids. He asked me about my medical history including what medications I take, allergies, and prior cosmetic services. He checked my vision. He took a number of detailed measurements of my eyelids, the upper eyelid creases, the eyelids when looking up and down, and then he sketched my eyelids and face. He tested my visual fields, my pupils, facial sensation and facial muscle strength. Then he used a microscope to study my eye surface, checked my eye pressure and looked in the back of my eyes. Then he tested me for dry eye."
"When all of that was done, we talked. He told me what I knew, that my result was a disappointment. He told me I had a set of findings that was very common after cosmetic blepharoplasty. He called it the post-upper blepharoplasty syndrome. It includes everything that was bothering me: upper eyelid drooping that was not there before surgery, a high eye brow, like they have been pulled up, a hollow upper eyelid and a high upper eyelid crease, loose skin close to the eyelashes, and drooping or heaviness of the upper eyelid lashes. He called that eyelash ptosis."
"He explained that many eyelid surgeons actually think that this is what people are supposed to look like after blepharoplasty but they are wrong. He told me that it is commonly believed and taught that this appearance is caused by the removal of too much skin and fat and that it can't be fixed. For the first time after my surgery, Dr. Steinsapir gave me hope by telling me that this is simply wrong. Over the course of fixing thousands of eyelids, he has determined the cause of why these eyelids look the way they do. By operating on and exploring these surgically damaged eyelids, and recording his findings, he determined what causes these eyelids to look the way they do."
"He found that the internal anatomy of the eyelid has been flipped as a result of internal scaring in the eyelid. This causes the eyelid to go from an outtie eyelid with a normal fold to an innie eyelid with no fold. Dr. Steinsapir has a method of reliably fixing these issues and allowing the eyelid to fold normally again. It involves removing scar tissue. The scar tissue is caused by the original eyelid surgery when the first surgeon made an opening in the deep eyelid tissue to remove fat. This scars after surgery and pulls the tendon that opens the eyes out of position. Without the support of the tendon, the upper eyelid becomes heavy. There is also loss of support for the upper eyelid lashes and eyelid platform skin. The eyelid flips in making it look hollow primarily due to scar contraction. He uses a new method to lower the upper eyelid crease, return the upper eyelid tendon to where it belongs which fixed the upper eyelid ptosis, and mobilizes fat that is matted down in scar tissue to provide volume to the freshly restored fold."
"I had surgery with Dr. Steinsapir and it has changed my life. Almost immediately the tension I have felt in my eyes since my upper blepharoplasty has been relieved. I never really talked to Dr. Steinsapir about this before surgery. He said it might be related to something about the change in the anatomy after blepharoplasty because other patients have exactly mentioned the same thing. Appearance wise, Dr. Steinsapir is a miracle worker. He has restored my eyes and made them look happy. The sickly upper eyelid hollow with the sad looking face that made me look like an old lady is now gone. It has made a huge impact in my self-esteem. When I think about how many famous surgeons I have seen who had absolutely no idea how to fix this, I got motivated to write this review for Dr. Steinsapir. If you have had upper blepharoplasty that you know is not right, stop letting your surgeon gaslight you about how you've had a great surgery. See Dr. Steinsapir and get the help you need."
Meet with Dr. Steinsapir
Dr. Steinsapir is a leading cosmetic and oculofacial surgeon in Beverly Hills. He values minimally invasive treatment protocols, providing patients with the best care possible with the most conservative approach. His philosophy is to never provide more than is necessary, and to utilize the leading evidence-based treatments in combination with experience—and most importantly, individualized treatment. Dr. Steinsapir is the creator of Microdroplet Lift®, a treatment approach that optimizes natural results. To learn more about how Microdroplet Lift®, other minimally invasive services, or eyelid surgery can work for you, contact us today to schedule your personal consultation. Dr. Steinsapir spends quality time with all his patients. Services can be preformed at the time of your visit if you choose.