Beverly Hills Eyelid Surgery FAQ
FREQUENTLY ASKED QUESTIONS ABOUT BEVERLY HILLS EYELID SURGERY
For your convenience, Dr. Steinsapir has compiled a list of the most commonly asked questions about Beverly Hills blepharoplasty (cosmetic eyelid surgery). If your question is not answered below, please do not hesitate to contact our private practice facility. We look forward to speaking with you, and are always available to answer any questions or concerns you may have.
I am thinking of having eyelid surgery. How much recovery time should I allow?
Bruising and swelling after eyelid surgery generally subsides enough within 7-10 days for most patients to comfortably return to work and resume normal social activities. However swelling will still be present a couple of months. We typically let patients return to their workout in 3 weeks. If you have a particularly rigorous workout, we might even recommend waiting longer to resume your routine.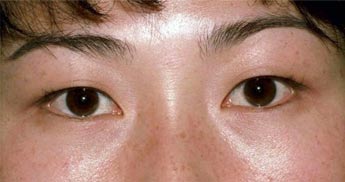 What is eyelid ptosis, and how can it be corrected?
Eyelid ptosis typically presents as a heavy or drooping eyelid, which can cause aesthetic problems (i.e. eyelid asymmetry) that detract from your overall facial attractiveness and may also impede your peripheral vision. Effective eyelid ptosis treatment should be customized for your condition, goals, medical history, and unique facial features. Treatment may include eyelid surgery to remove excess upper eyelid skin, which corrects the imbalance of forehead activation needed to elevate this extra tissue. Other patients may benefit from a forehead lift to brighten the appearance of the eyes and balance out the facial proportions. Anchor blepharoplasty is another type of upper eyelid surgery that can be utilized to correct ptosis of the eyelashes. The best treatment option for you can only be determined during a personal consultation with a leading oculofacial surgeon.
I am taking a number of herbal products that my acupuncturist has recommended. Will that be a problem for my eyelid surgery?
It is critical to avoid any product that may interfere with blood clotting prior to eyelid surgery. Many herbal preparations effect clotting and can exacerbate bruising following surgery, thereby compromising the surgical outcome. Therefore, we ask that you to stop taking these products, along with aspirin, ibuprofen, and other anti-coagulants about three weeks prior to surgery. These medications can be resumed five days after surgery. Our office will provide you with a comprehensive list of products to avoid and helpful tips to facilitate a successful eyelid surgery and recovery period.
I take a prescription blood-thinner (i.e. Coumadin, Plavix®, Xarelto ) due to a stroke I had 8 months ago. Should I stop taking this prior to my consultation if I know that I want eyelid surgery?
Please do not stop taking your Plavix® or any prescription medication without first discussing this with your prescribing doctor. Dr. Steinsapir will assess your indications for taking a physician prescribed blood-thinning medication, and will work collaboratively with your physician to assess the safety of discontinuing this medication.
I was born with a heavy eyelid on one side. Is this a condition that can be fixed with eyelid surgery?
The medical term for a heavy eyelid is eyelid ptosis, which may present unilaterally (on one side) or bilaterally (on both sides). Unilateral eyelid ptosis may create the asymmetric or uneven appearance you are describing. Dr. Steinsapir is highly qualified to treat eyelid asymmetry, and can address this issue during the context of your cosmetic eyelid surgery, or with an isolated procedure to correct the droopy lid.
I have heaviness in my upper eyelid fold. Will Dr. Steinsapir accept my health insurance?
Dr. Steinsapir does not participate with any health insurance plans. The problem you are describing is eyelid ptosis, which is deemed a cosmetic issue and typically is not covered by health insurance.
I consulted with a surgeon who proposed laser resurfacing as a way to non-surgically lift my eyelids—do I really need surgery if laser resurfacing will lift the eyelids?
This very much depends on the exact nature of your issues. Although tightening the eyelid skin with laser resurfacing can resolve some of the eyelid heaviness, it cannot address the structural issues in the upper eyelid. Laser resurfacing is an insufficient treatment measure to address laxity (looseness) of the eyelid platform, lash ptosis, eyelid ptosis, and herniated orbital fat, all of which can contribute to the appearance of a drooping, heavy eyelid. A personal consultation with Dr. Steinsapir is the best way to determine the optimal treatment plan for your unique facial structure and concerns.
I have been thinking about having eyelid surgery, but after reading about the benefits of a forehead lift, I now wonder if an endoscopic forehead lift might be a better choice. Can Dr. Steinsapir help with this dilemma?
There are a number of considerations that go into making this decision, many of which involve assessments about a patient's unique facial structure, anatomy, and personal aesthetic preferences. A personal consultation with Dr. Steinsapir is the best way to ascertain which treatment options will safely and effectively produce your desired surgical goals.
Is it possible to have eyelid surgery awake and in an outpatient setting?
Absolutely. Beverly Hills eyelid surgery procedures are typically very comfortable and can easily be performed under local anesthesia. Dr. Steinsapir's private practice facility features a dedicated procedure suite that is utilized for this exact purpose.
I am thinking about having eyelid surgery but am very nervous—can my procedure be performed under general anesthesia?
Dr. Steinsapir advises against having eyelid surgery under general anesthesia, because in order to achieve optimal results, it is essential that the eyes can open and close during surgery. If you are asleep, this is impossible, which compromises the surgical results. Dr. Steinsapir understands that some patients are very anxious about eyelid surgery, and offers the alternative of having eyelid surgery performed under intravenous sedation. With IV sedation, the anesthesiologist controls the level of sedation throughout the procedure, allowing patients to be minimally aware, but still able to cooperate during surgery.
What kind of laser does Dr. Steinsapir use to perform eyelid surgery?
Dr. Steinsapir has an incisional CO2 laser but in most cases, he specifically avoids using the laser for eyelid surgery because the laser devitalizes the edge of the wound for approximately a half millimeter on each side. This means that sutures need to be in for a prolonged period of time, which can result in unnecessary complications, such as: inclusions, cysts, and wound separation. The most critical aspect of eyelid surgery is not the incisional instrument that is utilized, but rather the proper design and execution of the procedure, which can only be ascertained with a proper work up and diagnosis.
Can my eyelid surgery safely be performed at the same time as body liposuction and breast implant surgery?
Dr. Steinsapir always places the safety of his patients above all else. The combination of breast surgery, liposuction, and eyelid surgery has an unreasonably high mortality rate. It is far safer to reduce the number of procedures performed at one time. In the long run, saving a few dollars by combining all of these is not in your best interest and may pose significant health risks.
Blepharoplasty Beverly Hills
Our team at LidLift would love to hear from you. Whether you have a question about blepharoplasty or would like to schedule a consultation, please do not hesitate to reach out today, and a member of our staff will be in touch with you shortly.