Liposuction FAQ Beverly Hills
For your convenience, Dr. Steinsapir has compiled a list of the most commonly asked questions about cosmetic liposuction. If your question is not answered below, please do not hesitate to contact our private practice facility, located in Beverly Hills, California. We look forward to speaking with you, and are always available to answer any questions or concerns you may have.
I had a C-section with my last pregnancy, and although I've lost my "baby fat," I still have this roll of fat just above my C-section scar that I can't seem to lose. I saw a plastic surgeon who told me I needed a tummy tuck but I really don't want a scar around my belly button, nor do I want my C-section scar made any bigger—is there any other option?
What you are describing occurs when the obstetrician sweeps up the belly fat to flatten the area above the pubis before making the C-section incision. This traps fat above the incision and creates the unwelcome bulge above the C- section scar. Tumescent liposuction can stimulate skin contraction and often serves as a very effective means of reducing this bulge. The procedure can be done in the office under local anesthesia with minimal down time. While liposuction will not resolve all the issues, it will produce significant improvements without the hip to hip incision and 10 weeks of recovery necessitated by a tummy tuck surgery.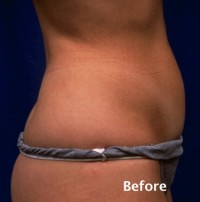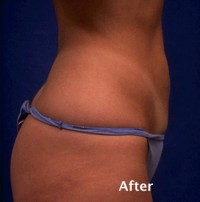 What does Dr. Steinsapir think of Mesotherapy? Is this a good alternative to liposuction?
Mesotherapy involves the injection of solutions containing, among other things, the bile salt deoxycholate and phosphatidylcholine. These treatments are marketed under the names Lipo-dissolve, Lipodissolve, LipoShape, and Lipostabil. Other chemicals that may be in mesotherapy solutions may include: Aminophylline, Dimethylethanolamine, Glutathione, Hyaluronidase, Isoproterenol, L-arginine, Lidocaine Pentoxifylline, and Yohimbine. Although deoxycholate and phosphatidylcholine destroy fat cells, they also damage blood vessels and produce scarring.
Mesotherapy solutions are not FDA approved and the labs that concoct these solutions are unlicensed—in many cases, doctors buy the raw materials and mix them up in their office. What most patients don't realize is that mesotherapy is an untested and unproven treatment that is associated with a number of unpleasant side effects. There are numerous reports of infections due to the flawed conditions in which these mesotherapy preparations are made. At this time, Mesotherapy does not live up to the hype and represents an unreasonable danger to the public. Mesotherapy is not a good choice for an alternative to liposuction.
Is it possible to get all the fat out if liposuction is performed under local anesthesia?
It is important to understand that liposuction, whether it is performed under general anesthesia, intravenous sedation, or local anesthesia, is a sculpting technique, and that the ultimate goals is shaping the body, rather than sucking all the fat out. Believe it or not, body fat plays an important functional role, and is needed to cushion the skin from the underlying muscle. When all the fat between the skin and muscle is removed, the skin sticks to the muscle and creates very unattractive results.
I am thinking about having liposuction but I have very dark skin and am concerned about my skin darkening around the incision sites. Will this be a problem for me when I have liposuction?
It certainly can be an issue. All skin types, including the darkest skin types, can develop what is called post-inflammatory hyperpigmentation where the skin has been disrupted during the liposuction procedure. Not everyone has this reaction, and in most cases the hyperpigmentation fades after a few months; however, some patients do experience residual discoloration of the skin. It is appropriate to talk with your doctor regarding your concerns.
I am considering Lap-band® surgery because I am 100 pounds above my desired weight. Will liposuction help me to achieve my weight loss goal?
Absolutely not. Liposuction is a body-sculpting surgery, and should not be undertaken as a weight reduction technique. This does not mean that only thin patients will benefit from liposuction. Heavier individuals who have stabilized their weight can benefit from liposuction if the surgical goal is to sculpt or shape a targeted area of fat. A personal consultation with Dr. Steinsapir will help determine if liposuction is right for you.
I am a male bathing suit model. I am 5'10" and weigh 140 pounds. Could liposuction help me eliminate my love handles?
Liposuction is an excellent solution to address concerns about love handles and other types of localized fatty deposits. This surgery can provide an excellent solution for patients who lead a very healthy lifestyle but have not been able to completely eliminate stubborn fat pockets with traditional diet and exercise programs.
I am in my late thirties and am very displeased with the appearance of flabby fat deposits in my arms. Can this issue be improved with liposuction?
Absolutely. However, liposuction should be used to sculpt these fatty deposits, not to completely eliminate them. If too much fat is removed, the skin becomes deflated, which can make the area look worse. Generally the goal is a 20-30% improvement.
I previously had liposuction surgery under general anesthesia. I saw some improvements, but the surgery created some aesthetic issues—in particular, my belly button looks like there is a donut around it. Can anything be done about these problems?
In general, these post-liposuction aesthetic issues are the result of either too much or too little fat being removed during the original surgery. The "donut" concern you are describing is a common contour defect following liposuction, and can be resolved or significantly improved with a secondary (revisional) liposuction procedure. Even though your original liposuction was performed under general anesthesia, optimal results from your revisional procedure can likely be achieved with a tumescent technique and local anesthesia.
I had liposuction a few years ago and I think that the doctor removed too much fat, and now I have divots in my skin where it seems like the skin is sitting directly on the muscle. Is there anything that can be done about this?
In order to accurately assess your concerns, Dr. Steinsapir will need to see the areas himself; however, in most cases, the divots resulting from overzealous liposuction surgery can be addressed with an autologous fat transfer procedure, which uses fat from other areas of your body to fill in the divots, thereby creating a smoother, more aesthetically pleasing appearance.