Liposuction Procedures Beverly Hills
LIPOSUCTION OVERVIEW
Liposuction (lipoplasty, liposculpture) is an extremely popular cosmetic body contouring procedure; however, there is a great deal of confusion among patients regarding the true purpose of this surgery. It is important to understand that liposuction is not a weight reduction method—it is a body sculpting technique that is best suited to address and eliminate stubborn fatty deposits that persist despite traditional diet and exercise regimens. Liposuction is ideally suited for male and female patients that have consistently maintained a relatively stable weight, yet still struggle with localized pockets of body fat.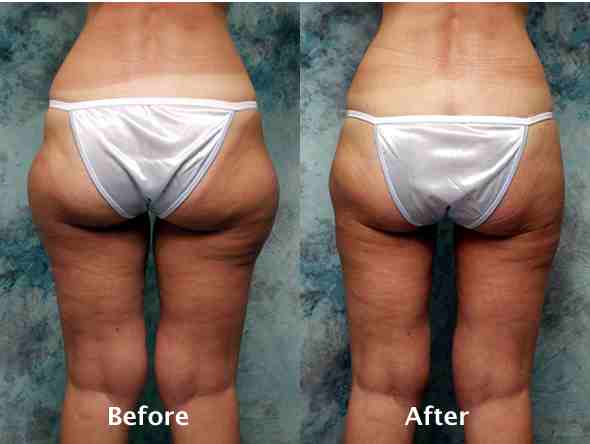 Liposculpturing techniques are often employed to enhance the appearance of:
Front and sides of the abdominal region ("muffin top")
Outer thighs ("saddlebags") and inner thighs
Flanks
Inner knees
Enlarged male breasts
Back
Arms
Neck (jowls, double chin)
Lower face
In order to achieve optimal results from your liposuction surgery while minimizing the risk of surgical complications, it is important to select a skillful, experienced plastic surgeon to perform this procedure. Dr. Kenneth Steinsapir is one of 500 elected Fellows to the American Society for Ophthalmic Plastic and Reconstructive Surgery, and is world-renowned for his expertise in cosmetic surgery. He is a Fellow of the American Academy of Cosmetic Surgery and Fellowship trained in Cosmetic Surgery with extensive experience in liposuction. At the pristine facilities of his private practice in Beverly Hills, CA, Dr. Steinsapir will take the time to discuss your aesthetic concerns and will customize your liposuction procedure to address your unique body sculpting goals, taking every precaution necessary to ensure your safety during and after the procedure.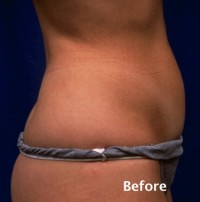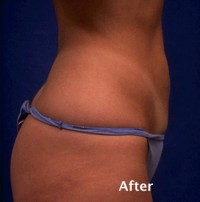 TUMESCENT LIPOSUCTION PROCEDURE
Although there has been some public concern about the safety of liposuction surgery, most of these apprehensions are unfounded and stem from the misinterpretation of medical statistics, and a lack of differentiation among surgical techniques. When liposuction is performed under local anesthesia using the tumescent approach (fat is carefully removed with very small cannulas), the risk of surgical complications decreases significantly. In a recent review of 66,570 liposuctions performed using the tumescent technique with local anesthesia, there were no deaths and no blood transfusions required.
Many of the dangers associated with liposuction procedures are a direct result of complications from general anesthesia, which allows surgeons to expedite the procedure using oversized cannulas, but creates far more trauma to the muscles, extends the post-surgical recover period, and significantly increases the amount of blood loss, potentially necessitating a blood transfusion. Dr. Steinsapir prioritizes the safety and health of his patients above all else, and exclusively practices tumescent liposuction with local anesthesia.
Tumescent liposuction surgery is associated with almost no blood loss, and utilizes tiny cannulas (no wider than 2 mm) to deliver the dilute local anesthetic. Because the patient is awake for the procedure and only the targeted fat is numb, the patient is able to report discomfort if the cannula encroaches upon the adjacent musculature, which prevents the muscles from being traumatized by surgery.
TUMESCENT LIPOSCUTION RECOVERY
Recovery after tumescent liposculpture is much faster than after the same procedure performed under general anesthesia. Many patients are able to return to work and resume physical activity within 2 days, as compared to 6-8 weeks for procedures performed under general anesthesia! After liposuction with general anesthesia, patients must wear a specialized compression garment for at least 6 weeks, but after a locally anesthetized procedure, this garment need only be worn for 5 or 6 days.
If some weight is regained after liposuction surgery, it will be more evenly distributed over the body, helping to maintain the newly-improved silhouette; however, patients are strongly advised to practice a healthy lifestyle and to maintain a stable weight in order to maximize and extend the longevity of their body contouring improvements.
CONTACT DR. STEINSAPIR
Dr. Steinsapir is a UCLA- and University of Chicago-trained surgeon who has performed separate fellowships in both Cosmetic Surgery and Oculofacial Microsurgery. Many individuals travel nationally and internationally to undergo cosmetic surgery procedures with Dr. Steinsapir. To learn how properly performed liposuction surgery can help you achieve a leaner, more streamlined physique, please don't hesitate to contact our office.
You may also continue to explore Dr. Steinsapir's website (www.Lidlift.com), where you will find supplementary information pertaining to tumescent liposculpture techniques, before-and-after liposuction case studies, and answers to frequently asked questions about this procedure. Your liposuction surgery can serve as a key stepping stone along the path to become the best possible version of yourself—you can take the first step by calling to schedule your personal consultation with Dr. Steinsapir today.