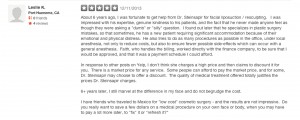 About 6 years ago, I was fortunate to get help from Dr. Steinsapir for facial liposuction / resculpting. I was impressed with his expertise, genuine kindness to his patients, and the fact that he never made anyone feel as though they were asking a "dumb" or "silly" question. I found out later that he specializes in plastic surgery mistakes, so that sometimes, he has a new patient requiring significant accommodation because of their emotional and physical distress. He also tries to do as many procedures as possible in the office, under local anesthesia, not only to reduce costs, but also to ensure fewer possible side-effects which can occur with a general anesthesia. Faith, who handles the billing, worked directly with the finance company, to be sure that I would be approved, and that it was a payment schedule I could afford.
In response to other posts on Yelp, I don't think she charges a high price and then claims to discount it for you. There is a market price for any service. Some people can afford to pay the market price, and for some, Dr. Steinsapir may choose to offer a discount. The quality of medical treatment offered totally justifies the prices Dr. Steinsapir charges.
6+ years later, I still marvel at the difference in my face and do not begrudge the cost.
I have friends who traveled to Mexico for "low cost" cosmetic surgery – and the results are not impressive. Do you really want to save a few dollars on a medical procedure on your own face or body, when you may have to pay a lot more later, to "fix" it or "refresh it?"
Leslie K,
It was a pleasure taking care of you in the office. We really appreciated your wit and presence in the office! Thank you for sharing your experience as a patient of Dr. Steinsapir with the Yelp.com community. It really means a lot to all of us.